SHOPPING IN JAKARTA
From traditional handicrafts revealing stories of the local culture to internationally coveted brands, Jakarta invites you to experience a shopping extravaganza like no other. Endless shopping malls, vibrant local markets and high-end boutiques lining the streets ensure that the city will please any avid shopper. Guests of Keraton at The Plaza Jakarta are sure to relish the convenience of staying at the center of the city, with every shopping mall worth your while located near the hotel and accessible within minutes.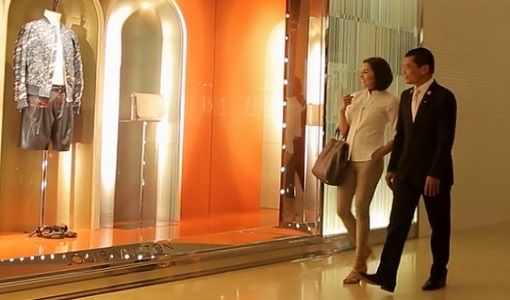 Plaza Indonesia Shopping Centre
Jl. MH Thamrin Kav. 28-30, Central Jakarta, connected to the hotel.
Smart local favorites as well as internationally coveted brands are available at this luxurious shopping mall and entertainment complex, located right below the hotel. Visitors can enjoy browsing a cornucopia of beauty, fashion and home décor along with the latest electronics and books. Nourishing meals and beautiful cafés are right on hand when a break from shopping is needed. With a wide array of shops, Plaza Indonesia is the place to be for when you are at a loss of what to buy in Jakarta.
Jalan Surabaya
Menteng, Central Jakarta
A dizzying array of wares seems to spill from deep inside the stalls of this renowned open-air market. Glowing brass ships' lanterns, brightly painted wayang golek figures and dark wood tribal masks catch the eye. Enameled vessels, glittering art deco and rhinestone brooches would warrant a second look. In the best tradition of antique markets, each vendor's stall is a densely-packed mystery of treasures, waiting to be discovered. These unique trinkets are a must have, and should earn a spot on your list of things to buy during your trip to Jakarta.
Sarinah Department Store
Jl. M.H. Thamrin 11, Menteng, Central Jakarta
Jakarta's first ever shopping mall remains a much-loved and admired emblem in the city. Named after President Soekarno's (Indonesia's first president) nanny, its floors highlight a wealth of handicrafts from the Indonesian archipelago. The graphic boldness of traditional batik textiles display creamy ivory, earthy brown and vibrant indigo colors. Sarinah is located just minutes from Keraton at The Plaza, allowing guests of the hotel to easily enjoy a shopping spree for intriguing cultural and traditional pieces.